Connecting
the best candidates and companies.

Hire Best Talent

with us.
of experience in IT recruitment
Quickly and efficiently
You will receive your first CVs in 5‑7 days. Average time to close a vacancy — 2‑6 weeks.
No prepayment. Pay only after successful placement.
Full Cycle Recruiting
We are able to complete each stage of the recruitment cycle, from the vacancy intake and sourcing of candidates all the way through the extension of a job offer.
Most popular requests from our customers
We recruit IT talents of various profiles, based on your business goals. We'll find talents that no one else can!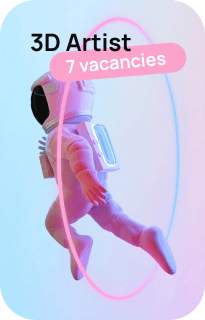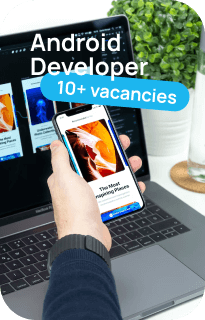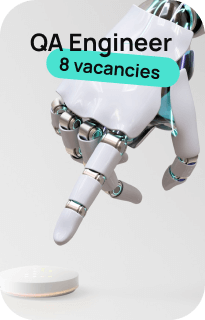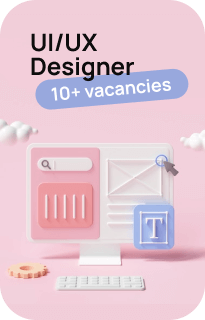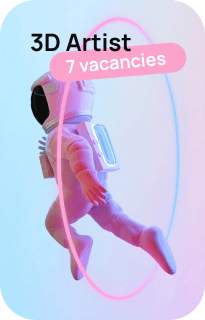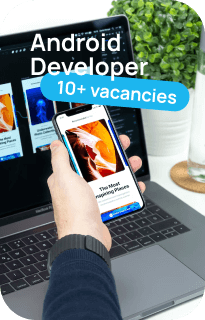 How we work
Each hiring request is unique. We will build the recruitment process according to your business needs, do relevant talent sourcing and "sell" your position.
1

Request talent

We receive your request. We clarify all requirements and details.

2

Analysis

We create a candidate profile tailored to your request and requirements.

3

Sourcing

We do sourcing in paid services, own database, social networks and professional communities.

4

Interview

We conduct a series of interviews, check both soft and hard skills, as well as references from previous jobs.

5

Hiring

We coordinate your interviews with candidates, accompanying them through all stages of the recruitment process.

6

Placement

Within 14 days after the candidate's placement, you will pay for our services. For each placement, we provide up to 90 days free replacement followed by a search for the perfect person.
Our expertise
We recruit developers, designers, QA, analysts, managers, administrators in a short time and without prepayment.
Product & Project Management

Product & Project Management

IT Project Manager
IT Product Manager
Head of Product
CPO
Program Manager

Business Analysis

Business Analyst
System Analyst
Data Analyst

Design

Graphic Designer
Web Designer
UX/UI Designer
Game Designer
Motion Designer
Product Designer

Game Development

Unity3D Developer
Unreal Engine Developer
Game Developer C++
Game Designer
2D Artist
3D Artist

R&D and Products Development

R&D and Products Development

Machine Learning Engineers
AI Engineers
DevOps
Front-end and Back-end Developer
CTO
Android/iOS Developer

Quality Assurance

Automation QA Engineer
Manual QA Engineer
Quality Control Specialist

Digital

SMM Specialist
Digital Marketing Specialist
Performance Marketing Manager
PR and Community Manager
Event Manager
Email Marketing Manager

IT Infrastructure Administration

IT Infrastructure Administration

System Administrator
DevOps Engineer
Security Engineer
IT Manager
Feedback from our customers
The service provides high-quality services and a decent level of support. Experience and professionalism are the features that distinguish the service from competitors. You can rely on them in any situation. When we had issues, support immediately turned on, fixed emerging bugs, gave advice, and was in touch until the employee received the promised discount. Any emerging case was resolved clearly, promptly, and in a short time. In addition to high quality, Benefits gives their recommendations and tips, what to pay attention to, and which data need to be updated. Thank you for your service, professional approach and human attitude! Prosper, expand, boldly conquer new heights!
Natalia Mironchik
People Partner at Godel Technologies
Now GP Solutions does not have to spend internal resources to maintain the viability and relevance of the corporate discount system. Employees even joke about whether it is possible to reduce the number of partners because their eyes run wide and sometimes it is difficult to make a choice;)
Anastasia
HR at GP Solutions
Benefits.lt is a magic wand for every company that knows what it's like to update an employee discount program. Most pleasing is the integration of Partner updates in the corporate Slack: the system does it automatically, thereby saving your resources, for Benefits.lt genuinely has a whole lot of Partners and discounts!
Lera Lavnik
HR at Altoros
We have been working with the Benefits team for over 2 years. Communication of specialists at the highest level: courtesy, prompt feedback, a clear understanding of their product, and presentation of new products with a focus on the client's business and needs. Also, Benefits provides a flexible approach to each partner. Always open to discussing individual preferences and requests. They take into account various aspects of work and are as friendly as possible. I wish the Benefits team to continue to maintain such a high degree of customer focus and loyalty, as well as to please customers by expanding their partner base.
Ludmila Voroshilova
HR at Andersen Lab
We thank Benefits for successful cooperation and technical support. Our employees are very satisfied with your service. Pleased with a large number of discounts and the constant growth of new partners. Very easy to use. With the help of the Benefits service, you do not need to spend time creating and updating an internal discount program for company employees. We recommend Benefits wholeheartedly;:)
Bozena Zhukova
Office Manager at Intexsoft
Benefits has a large and convenient catalogue of establishments, where you can find almost any service. We are actively using all available offers and discounts. The Partner Base is constantly growing and expanding, and it is always nice to see that the usual goods and services can be purchased at a discount.
Olga Borisevich
HR at 69pixels
Thanks to the Benefits.lt team for the useful discount service. This is a must-have for everyone seeking to avoid overpaying for goods and services. Once you've got a product or service in mind, you can go to a convenient website, which contains all the necessary information about available discounts by category. The remarkable thing is that the Benefits.lt team consistently works on expanding its Partner Base and updates our team about new offers weekly, which is good news! So it is simply impossible NOT to save with Benefits.lt :)
Thanks a lot to Benefits.lt! Benefits helped us to simplify and automate the discount program in our company. We have received only positive feedback from our team and they enjoy this service thoroughly.
Tatiana Patuk
HR at Touchlane
Benefits has a handy catalogue of establishments where you can get a discount and produces significant savings. You can save up to 10 rubles on one delivery of sushi. I am planning to start using a gym membership discount soon as well.
Bogdan Kurnosov
Head of Engineering at Gcore
Benefits Solutions helped us find and hire Head of UA, the quality and number of candidates were high, and the position was closed on time.
Alexander
Founder at Straitonapps
Email us if you have any questions
We will contact you to discuss individual terms and conditions and conclude a contract to offer a personalised solution.